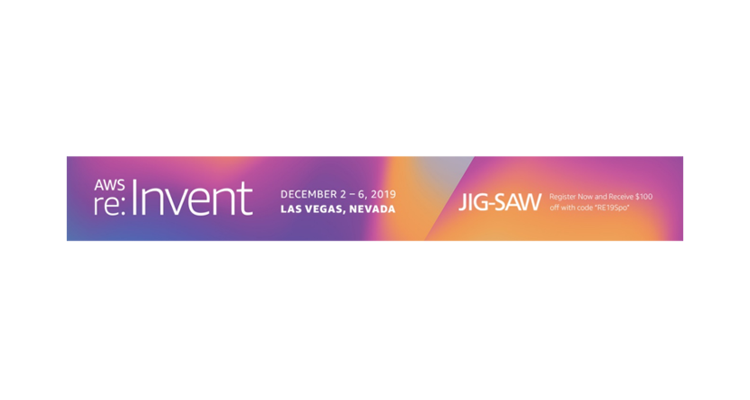 IoT Engine & Service Exhibition at Amazon Web Services Sponsored Event
'AWS re:Invent 2019' (December 2-6, 2019, Las Vegas, NV)

 JIG-SAW will be exhibiting at this year's Amazon Web Services event 'AWS re:Invent' as an IoT service provider for the second year in a row. Demonstrations of the microprocessor-embedded IoT engine "neqto" integrated with AWS will be on display for the large multinational crowd of AWS users in attendance.

 Furthermore, JIG-SAW will be displaying a demonstration of neqto: Engine embedded onto Sony Semiconductor Solutions Corporation's smart-sensing processor-equipped board "SPRESENSE®." "SPRESENSE is a smart-sensing processor-equipped board that connects with various sensors and is capable of AI processing, all the while operating on low power. We are hopeful that our partnership with JIG-SAW will contribute to significant expansion of our IoT business", said Toshiyuki Nakamura, Senior General Manager of Sony Semiconductor Solutions Corporation's IoT Solutions Business Division.

<Exhibition Details>
Host: Amazon Web Services, Inc
Event Dates: Friday, December 2nd-6th, 2019
Location: The Venetian, ARIA, Bellagio, Encore, MGM Grand, Mirage, Vdara(Las Vegas, Nevada)
https://reinvent.awsevents.com/campus/ (English)
Booth#: 3711

AWS re: Invent booth backboard image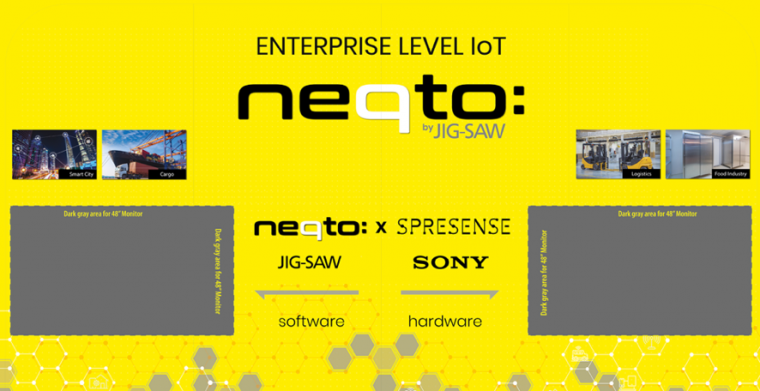 *:Amazon Web Services (AWS) is a trademark of Amazon.com, Inc. and other affiliated companies within the United States and abroad.
*:"AWS re:Invent" is an Amazon Web Services sponsored event for the global cloud-computing community. The event includes keynote speeches, training and certification opportunities, access to over 2,500 technical sessions, partner expositions, additional activities/events, and more.
*:SPRESENSE® is a trademark of Sony Corporation.
SPRESENSE® Technical Site: https://developer.sony.com/develop/spresense/
*:neqto: is an embedded-software license that enables the use of the neqto Engine, developed by JIG-SAW to be compatible with ARM-Cortx-M.
Service Site:https://neqto.com/en/
■About JIG-SAW
・ IoT Data Control Service
・ Fully-automated IoT/cloud data control/sensor connection service made possible through unique algorithms.
・ Cutting-edge chips, module development and communication control, next-generation real-time OS research and development.
※ Development for the automation, diversification, and sharing of A&A services via a base of the optimized, automated control/operations technology "Operation Technology (OT)."
※Focus on OS-focused software technology and integration, ultra-high speed communication, signal control-focused hardware technology retention and generic technology for regenerative medicine.
---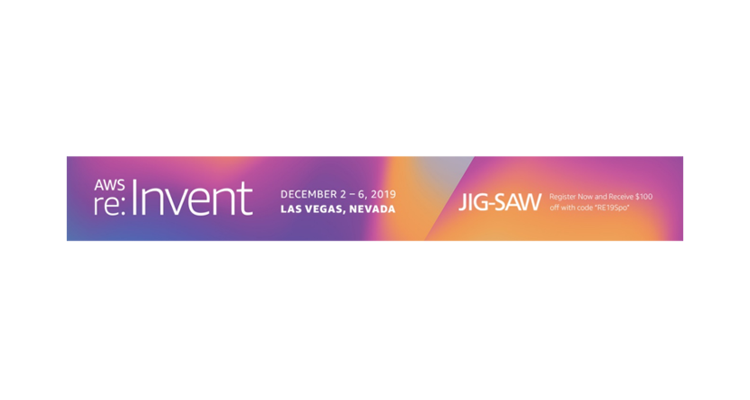 Amazon Web Services 主催 AWS re:Invent 2019
(2019年12月2日〜6日、米国ラスベガス)にIoTエンジン&サービスを出展
 JIG-SAWは、2019年12月2日~6日、米国ラスベガスにおいて開催される"AWS re:Invent 2019"(以後、AWS re:Invent)に、IoTサービス提供企業として昨年に引き続き"AWS re:Invent"へ出展し、世界中から集まるAmazonユーザ向けに、マイクロプロセッサ搭載用IoTエンジン"neqto:"とAWSを活用したソリューションや遠隔制御の技術デモンストレーションの展示を行います。
 また、JIG-SAW展示ブース内にて、neqto:エンジン搭載のソニーセミコンダクタソリューションズ株式会社製IoT向けスマートセンシングプロセッサ搭載ボード「SPRESENSE®」を活用したスマートセンシングのデモンストレーションを行う予定です。ソニーセミコンダクタソリューションズ株式会社のIoTソリューション事業部長である中村俊之氏は、「SPRESENSEは低消費電力でありながら、各種センサーインターフェースを備え、AI処理も可能なIoT向けスマートセンシングプロセッサ搭載ボードです。今回の取り組みがJIG-SAW社および当社双方のIoTビジネスの大きな成長につながれば幸いです。」と述べています。
<出展概要>
主催:Amazon Web Services, Inc
開催日程:2019年12月2日(月)~12月6日(金)
場所:The Venetian, ARIA, Bellagio, Encore, MGM Grand, Mirage, Vdara(米国・ラスベガス)
https://reinvent.awsevents.com/campus/ (英語)
Booth#: 3711

AWS re:Invent出展ブース バックボードイメージ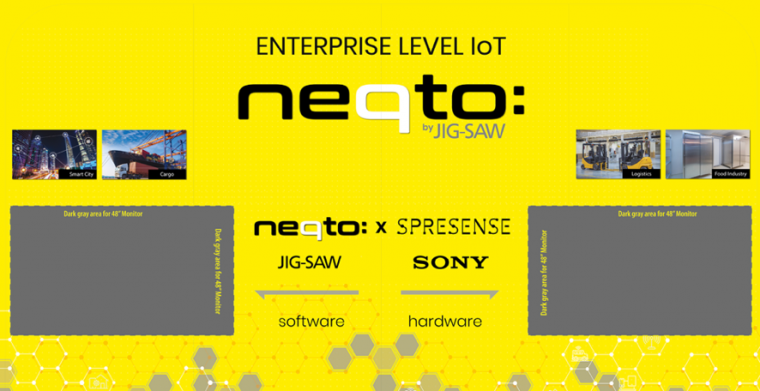 *:Amazon Web Services、 アマゾン ウェブ サービス、AWSは、米国その他の諸国におけるAmazon.com,Inc.またはその関連会社の商標です。
*:"AWS re:Invent"は、グローバルクラウドコンピューティングコミュニティ向けにAmazon Web Servicesが運営するイベントです。このイベントでは、基調講演、トレーニングと認定の機会、2,500を超えるテクニカルセッションへのアクセス、パートナーエキスポ、営業時間外のイベントなどが行われます。
*:SPRESENSE®は、ソニー株式会社の商標です。
SPRESENSE®テクニカルサイト: https://developer.sony.com/ja/develop/spresense/
*:neqto:は、JIG-SAWが開発したARM-Cortx-Mに対応したneqtoエンジンを利用するための組込みソフトウェアライセンスです。
サービスサイト:https://neqto.com/
■JIG-SAWについて
・IoTデータコントロールサービス
・独自アルゴリズムによる全自動IoT・クラウドデータ制御・センサーコネクトサービス
・最先端チップ、モジュール開発及び各種通信制御、次世代リアルタイムOSの研究開発
※最適自動制御・運用技術「オペレーションテクノロジー(OT)」をベースにした全産業の自動化、分散化、シェアリング化のためのA&Aサービスを展開。
※OS技術を軸としたソフトウェア技術と組み込み、超高速通信、信号制御を軸にしたハードウェア技術を保有及び基盤技術の再生医療分野等への応用。