SERVICE CONCEPT
The possibilities of
Auto Sensing and Auto Control
will expand infinitely
in the future
The core concept of JIG-SAW's service is what we call A&A: a combination of Auto Sensing and Auto Control.
A&A is a technology that is currently undergoing major evolutionary changes through the fusion of conventional OT (Operation Technology) and IT . This technology will enable automated monitoring, sensing and control of all manner of devices, equipment, and data.
A&A will be an essential core technology for controlling the connection of all things in the coming full-scale IoT era, and an indispensable presence in the digital universe that lies beyond it.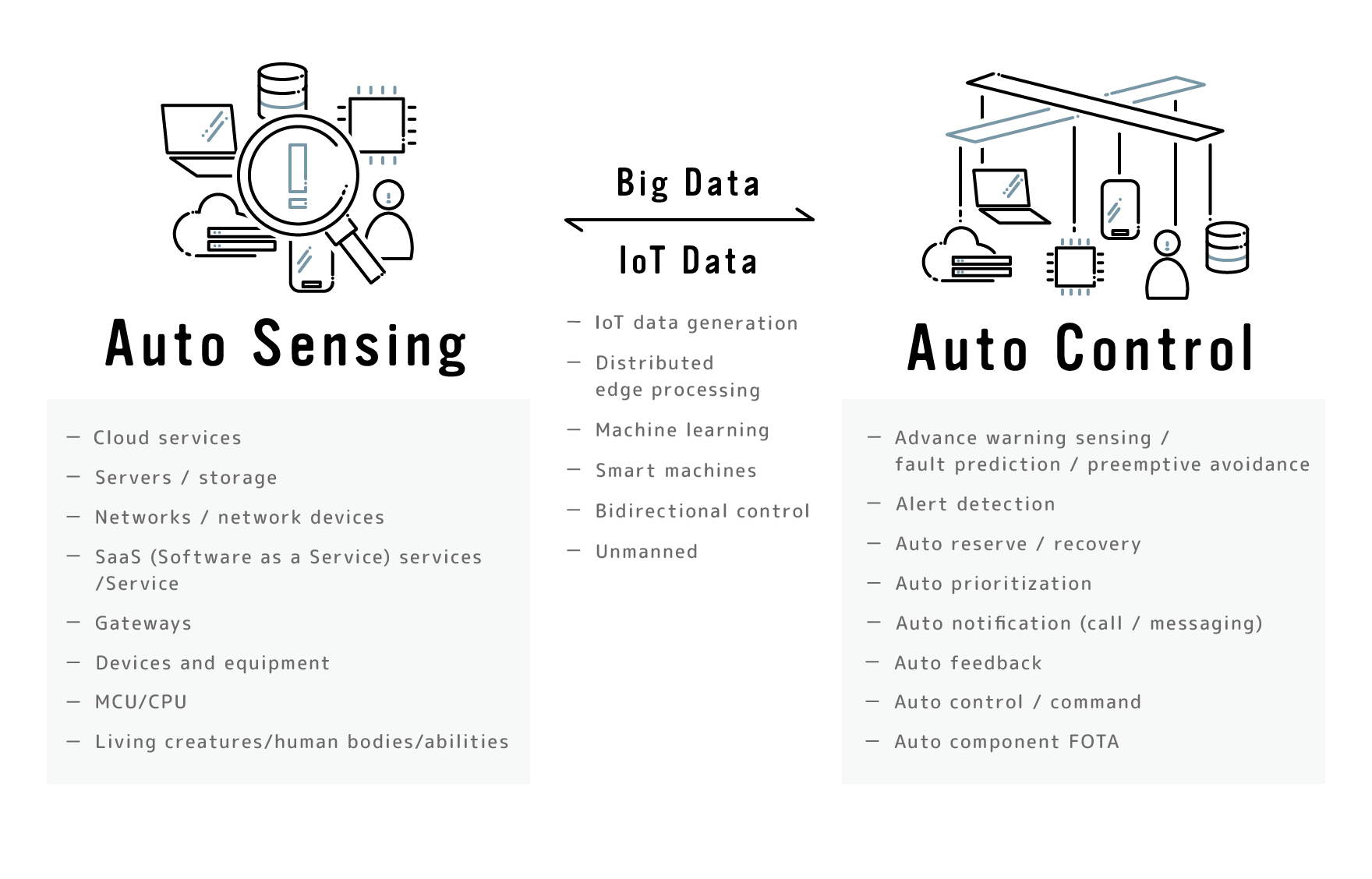 SERVICE
JIG-SAW offers services to monitor, control, support and protect all things surrounding the Internet with technology and experience, based on the core of A&A (Auto Sensing × Auto Control) technology infrastructure and ET (Embedded Technology) × ET (Edge Technology).
JIG-SAW is highly regarded for its unparalleld extensive range of server and cloud operation services.Offering industry-leading managed services that enable automated monitoring, operation and control of customers-contracted clouds, customer-owned servers and storage media, and supporting of devices.
Direct embedding of software into devices and equipment for IoT readiness, covering all processes including IoT data generation, data acquisition, forwarding/transmission, receiving and sensing.
The service enables direct bidirectional control of various hardware including motors, devices and equipment from cloud environments. As well as free adjustment and control of data measurement, transmission and management from devices themselves based on a combination of Embedded Technology and Edge Technology.
Service Overview

A unique system that facilitates A&A and automated operation: "puzzle" control infrastructure.
"puzzle" is a general name for robot-type automated control infrastructure that performs integrated monitoring, operation and control of all things that connect to the Internet (IoT), primarily on cloud environments, via a single console.
IoT data control through machine learning and operation-based AI control, combined with an auto sensing and auto control cycle achieved by the use of hundreds of proprietary software modules contributes greatly to swift and accurate management.

Direct embedding in all manner of devices and equipment enables generation, collection and storage of massive amounts of IoT data, as well as automated monitoring, judgments/decision-making and control of the devices themselves.
With the arrival of the full-blown era of IoT, all manner of devices and equipment will be connected to the Internet, including not only terminal devices and sensors but also all kinds of industrial devices and equipment, smart homes, smart cities, and smart factories, in addition to construction machinery, cars, drones, robots and other automated mobile units. JIG-SAW provides IoT data control services achieved by combining its proprietary edge control technology with IoT-LTE, LPWA, Wi-Fi and other chipsets on core infrastructure circuitry, and IoT / End-to-End services that cater to customer needs, including connection to IoT data storage infrastructure control (cloud / SaaS infrastructure).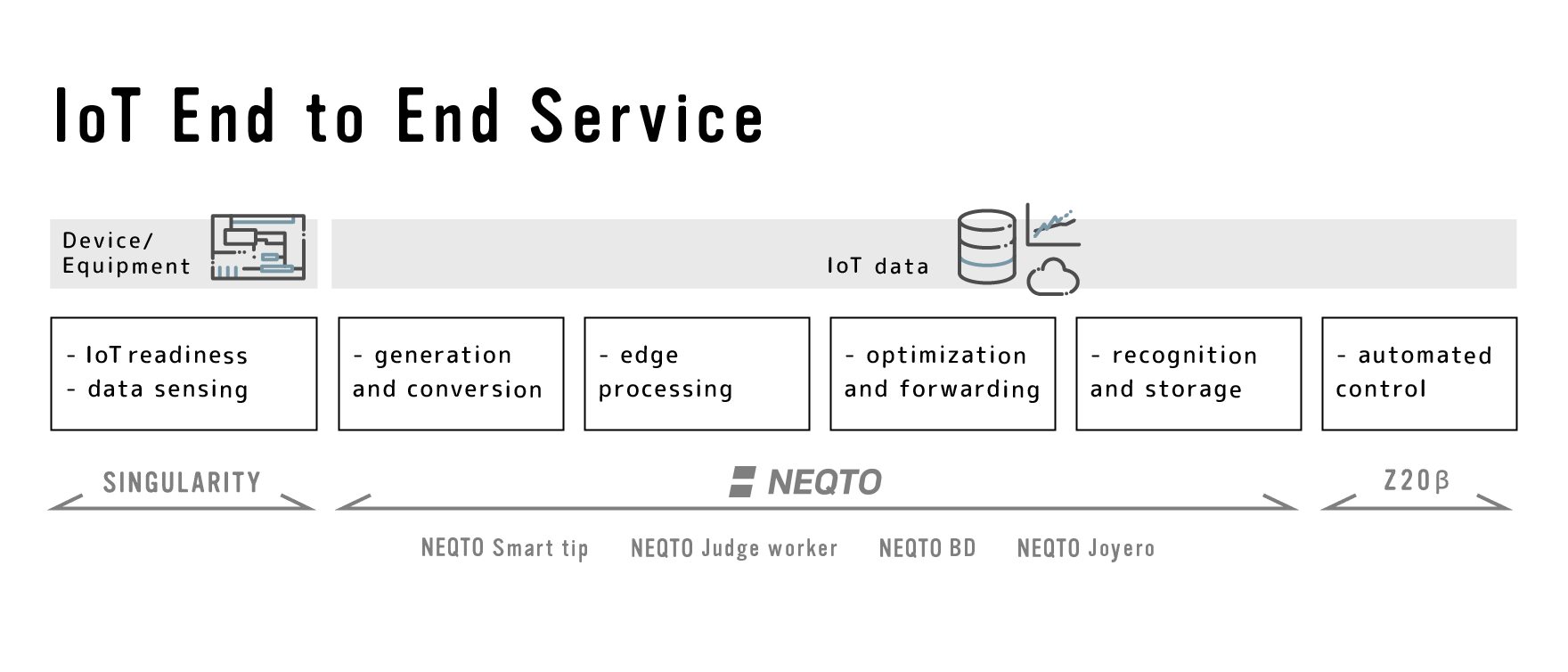 FACILITY
Global dual management centered around Japan and North America
JIG-SAW operates two control centers, its Sapporo Control Center (SCC) and North America Toronto Control Center (TCC). From these two control centers, we provide manned dual-management 24 hours a day, 365 days a year, based on automated control of global Internet environments.
Sapporo Control Center (SCC) and
North America Toronto Control Center (TCC)
JIG-SAW's SCC and TCC are integrated control centers that perform core front-line monitoring duties 24 hours a day, 365 days a year, and also incorporate "Management Area" control tower and "Development Area" R&D functionality.
These control centers provide a wide range of services including monitoring of Internet environments, services and systems, fault handling, service recovery, R&D for developing various automated operational infrastructure, and monitoring of IoT data devices and other devices.
Thorough risk management
Control centers:
JIG-SAW's control centers are equipped with high durability and security measures, and guarantee the provision of high-quality management services that offer higher efficiency under good access conditions.
ENVIRONMENTEnvironmental risks
(BCP contingency measures)

・Control centers equipped with uninterruptible power supply systems
・JIG-SAW monitoring area established in a separate location from SCC (redundancy provided by two centers in Japan)
・Dual management in collaboration with North American control center location

SECURITYHuman risks

・Access control / restriction to control rooms
Automated processing / control alerts

Over 120 million per month

Automated response incidents

Over 10,000 per year

24/7 service

Center management by full-time employees