2020.03.19
JIG-SAW signs a Letter of Understanding with Sony Semiconductor Solutions as a step forward in a business partnership involving the IoT engine neqto:
JIG-SAW INC. (President and CEO Masunaru Yamakawa, hereinafter referred to as JIG-SAW) announces it has signed a Letter of Understanding with Sony Semiconductor Solutions Corporation (Representative Director and President Terushi Shimizu, hereinafter Sony Semiconductor Solutions) to create a business partnership around the IoT engine neqto:. Following further discussion, we will work to conclude a legally binding agreement in the partnership.
JIG-SAW plans to offer the installation of neqto: on top of Sony Semiconductor Solutions' SPRESENSE ™. The SPRESENSE is an IoT board equipped with a smart sensing processor as well as mobile communication modem chipsets manufactured by Altair Semiconductor (a wholly owned subsidiary of Sony Semiconductor Solutions, Israel). We aim to provide a global IoT service that is usable with any existing or future devices and equipment.

About neqto:
neqto: is a software license for the use of ARM-Cortex-M-compatible embedded software developed by JIG-SAW. neqto: enables the remote control of devices and bi-directional communication between devices and any cloud, from anywhere.
https://neqto.com/spresense

About SPRESENSE
SPRESENSE, an IoT board equipped with a smart sensing processor, incorporates a high-performance GNSS (Global Navigation Satellite System) receiver innovated by Sony, as well as an audio codec that supports high-resolution audio sound sources. It is an original, multi-CPU board that can be used in various IoT systems such as drones, smart speakers, sensing cameras, and more.
https://developer.sony.com/ja/develop/spresense/specifications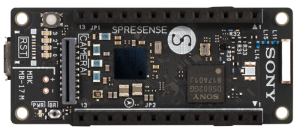 About JIG-SAW

・ IoT Data Control Service
・ Unique algorithm-driven fully automated IoT – Cloud data control – Sensor-connecting services
・ Development of state-of-the-art chips and modules, various communication controls, research and development of next-generation real-time OS
* Expanding A&A services (automation, diversification, and sharing) for all industries based on optimal automated control and 'operation technology (OT)'.
* Equipped with software technology centered on OS technology, hardware technology centered on ultra-high-speed communication and signal control, and application of foundational technology to the regenerative medicine field, etc.
Company Profile
JIG-SAW Inc. https://www.jig-saw.com/
Listing: Tokyo Exchange Mothers Market (Code: 3914)
Location: Tokyo Head Office
1-9-2-18F, Otemachi, Chiyoda-ku, Tokyo
United States (San Francisco, Santa Monica, California)/ Canada (Toronto)
Representative: Masunaru Yamakawa, President & CEO
Established: November 2001