2020.08.03
JIG-SAW & Flect Launch "IoT Remote Control Package for Customer Service," Promoting Remote Work Full Support for New IoT-Based Remote Customer Service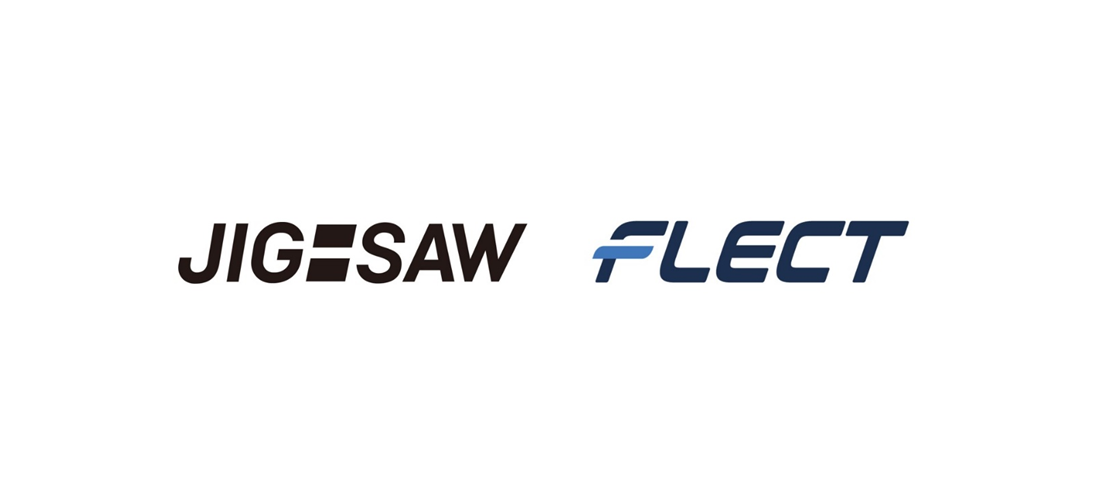 JIG-SAW INC. (HQ: Chiyoda, Tokyo. President & CEO: Masunaru Yamakawa. Hereinafter referred to as "JIG-SAW") and Flect Co., Ltd. (HQ: Chiyoda, Tokyo. CEO: Koji Kurokawa. Hereinafter "Flect")has launched a new collaborative service, "IoT Remote Control Package for Customer Service," on August 3rd, 2020.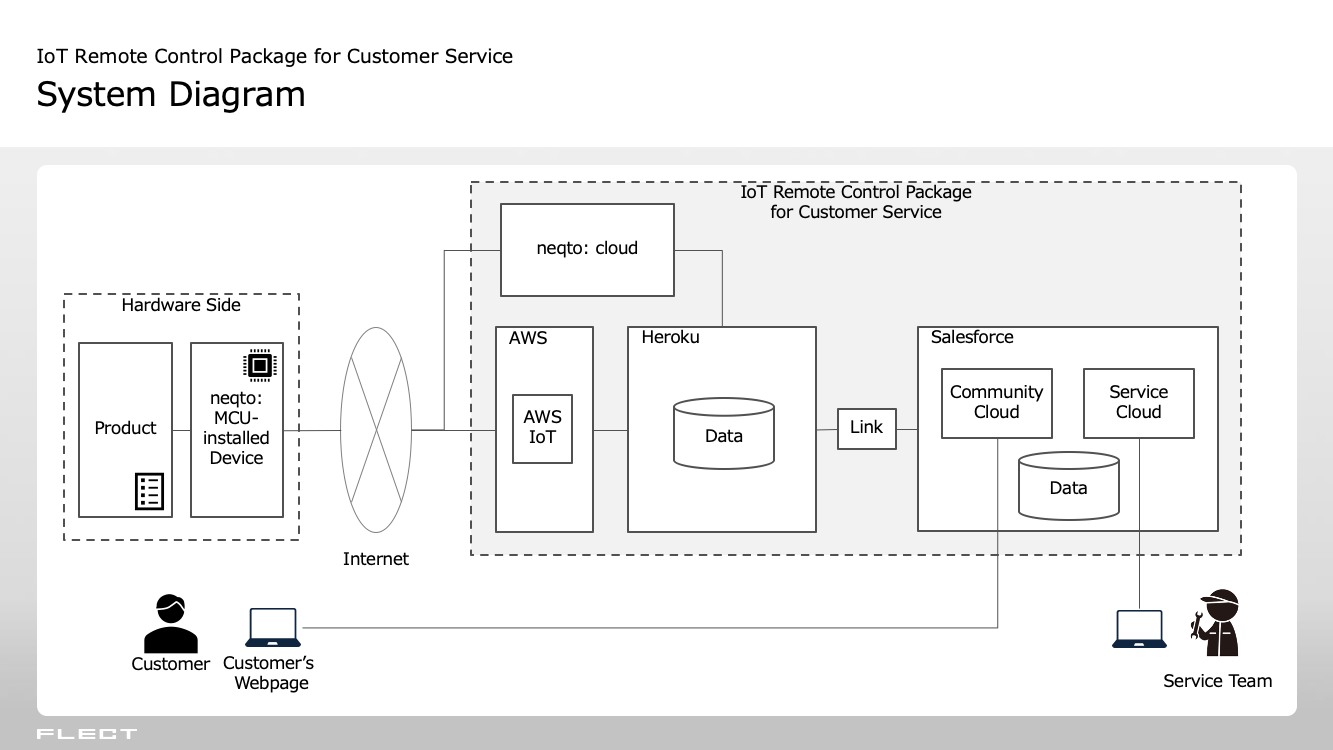 Currently, there is an urgent need for companies in all industries, businesses and sectors to improve the efficiency of on-site operations and create remote work environments to prevent the spread of COVID-19.
Flect and JIG-SAW have joined forces to focus on after-sales service sites in the manufacturing industry, especially for industrial manufacturers, offering a service built on the extensive experience of both companies. In the after-sales service field, many support and maintenance tasks are required to ensure staff efficiency, such as assigning maintenance staff to equipment breakdowns, emergency visits to customers, coordinating shifts, and making regular visits for device software maintenance.
Presently, countermeasures against viral infection resulting from staff movement and human contact are a pressing issue when performing these operations.
The "IoT Remote Control Package for Customer Service" is a start-up service that delivers an MVP* within three months, from product IoT implementation, to business applications that enable service departments to remotely support customers, and a customer webpage where the customers themselves receive support online.
Together, JIG-SAW's ability to take and send various types of real-time data, such as system temperature or number of operations, from IoT engine "neqto:"-enabled devices to the cloud, and Flect's business applications provided by Salesforce and built on the "Salesforce Service Cloud" and "Salesforce Community Cloud," enable fully-remote service operations, from diagnosis and control of equipment to support for inquiries.
As a result, the support process is seamlessly coordinated, enabling the delivery of optimized on-site and off-site remote services.
This collaboration between Flect, which has a proven track record in IoT application development, and JIG-SAW, in development of IoT edge engines, will enable comprehensive development support for devices and business applications. Customers will also be provided with an environment to use for effective testing and verification before implementing IoT into their products. The goal of this joint effort is to create value for all manufacturers, from large and medium-sized enterprises to small businesses, by creating significant operational cost savings through the optimization of remote maintenance.
*MVP: Abbreviation for "Minimum Viable Product." Refers to building a long-term profit structure by developing a product with minimal features.
【IoT Remote Control Package for Customer Service – System Overview】
■IoT Remote Control Package for Customer Service – Details
・Business Applications, Customer's Pages, IoT Infrastructure Development Support
・Salesforce Service Cloud /Salesforce Community Cloud /Heroku /AWS Licenses
・neqto: Hardware & Licenses
・Hardware Development Support
・Software Development Support
・Technical Support
■Package Introduction Webpage
https://www.flect.co.jp/iot-remote-pack/neqto-iot.html
・"Service Cloud," "Community Cloud" are registered trademarks of salesforce.com, Inc.
・Other company names and product names may be registered trademarks of the companies involved.
■Endorsement from Yasuhide Inoue, Vice President of Alliance at salesforce.com Co., Ltd.
"We are pleased to welcome the launch of the 'IoT Remote Control Package for Customer Service,' Flect Co., Ltd. and JIG-SAW INC.'s joint service that provides one-stop support for the full-scale implementation of IoT backed by the rich IoT development experience of both companies. Considering the current effects of COVID-19, we believe this project's ability to quickly enable virtual customer service will help solve problems that manufacturers are facing, and lead customers to success in implementing full-scale IoT."
■About Flect Co., Ltd.
Grounded on the philosophy of "pursuing life satisfaction for all through the Internet," Flect Co., Ltd. provides software development with a focus on Salesforce, consultation, IoT service implementation support, and the mobility business optimization cloud "Cariot." Flect's strengths lie in software development and service design backed by years of web application building experience, starting from its establishment. Furthermore, Flect has a proven track record as a Heroku development partner in Japan.
Headquarters: 1-1-6 NTT Hibiya Building 4F, Uchisaiwaicho, Chiyoda-ku, Tokyo 100-0011
Company Representative: Koji Kurokawa, CEO
Established: August 2005
Corporate Website: https://www.flect.co.jp/
About JIG-SAW
IoT Data Control Service
Unique algorithm-driven fully automated IoT – Cloud data control – Sensor-connecting services
Development of state-of-the-art chips and modules, various communication controls, research and development of next-generation real-time OS
*Expanding A&A services (automation, diversification, and sharing) for all industries based on optimal automated control and 'operation technology (OT)'.
*Equipped with software technology centered on OS technology, hardware technology centered on ultra-high-speed communication and signal control, and application of foundational technology to the regenerative medicine field, etc.
Company Profile
| | | |
| --- | --- | --- |
| JIG-SAW INC. | : | |
| Listing | : | Tokyo Exchange Mothers Market (Code: 3914) |
| Location | : | Tokyo Head Office (1-9-2-18F, Otemachi, Chiyoda-ku, Tokyo) |
|   |   | United States (San Francisco, Santa Monica, California) |
|   |   | Canada (Toronto) |
| Representative | : | Masunaru Yamakawa, President & CEO |
| Established | : | November 2001 |